Nassau County Sheriff's Deputy Joshua Moyers was shot in the face and back during a traffic stop near Callahan by a suspect who is still at large.
September 24, 2021 – By Dan Scanlan – Source The Florida Times-Union
Emotion in his voice, Nassau County Sheriff Bill Leeper described a 29-year-old deputy's critical injuries from bullet wounds to his face and back.
Pointing to a spot just under his right eye, the sheriff said Deputy Joshua Moyers was first shot there during the 2:30 a.m. traffic stop of a Chrysler minivan on Sandy Ford Road about three miles south of Callahan.
"Something caught his attention," so the sheriff said Moyers pulled the minivan — later determined to have been stolen in Jacksonville — over near railroad tracks west of U.S. 301.
The driver, next to a female passenger, did not have a license and gave the deputy a false name, Leeper said. Moyers went back to his patrol vehicle and ran the name. Once he learned it didn't match with the minivan, he asked the driver whether he had any weapons and to get out of the vehicle.
About the same time, a train was approaching, and the railroad crossing arms were flashing and ringing. The shooting occurred seconds later, the sheriff said.
"The driver's arm came out of the vehicle with a handgun and shot the deputy," Leeper said, pausing as he gathered himself. "… As the deputy fell down, he [the driver] reached out and shot him in the back. And just prior to the arms of the railroad crossing coming down, he sped off, just before the guards came down he got through."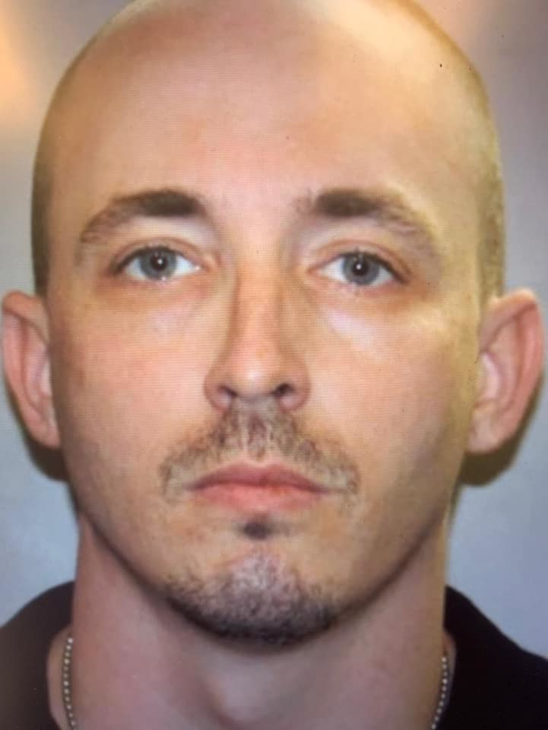 The entire incident was caught on the deputy's bodycam, which Leeper said he had seen.
A second deputy got to the scene just after the minivan fled into a wooded rural area, first spotting Moyers' flashlight, then the deputy wounded on the ground, Leeper said. Deputies searched the area, finding the abandoned minivan and the passenger.
She had been hiding under a shed and told investigators she told the suspect she wanted no part of it and was able to leave and call 9-1-1, Leeper said. At that point, the Sheriff's Office also learned the suspect's name and identified him as 35-year-old Patrick Rene McDowell of Jacksonville.
More law enforcement members were called in and included helicopters and K-9s. That's when a Jacksonville Sheriff's Office K-9 was shot but is expected to survive, Leeper said.
"We found a rifle abandoned in an area where there was blood where the K-9 was shot," he said.
The Florida Department of Corrections states that McDowell was sentenced on May 24 to a year and six months of probation on a forgery charge and was under drug-offender probation. The probation was handed down after a Nov. 5, 2018, arrest, according to state records.
McDowell also has previous arrests on charges of giving a false name to law enforcement and aggravated possession of stolen firearms, according to information from the Northeast Florida Fusion Center. That is a regional arm of a Florida Department of Law Enforcement agency that provides support to sheriff's offices in Northeast Florida.
The center's alert states McDowell also was previously committed for psychiatric examination under the state's Baker Act and has been noted to suffer from depression, seizures and post-traumatic stress syndrome. It states that McDowell has military training in the U.S. Marine Corps from 2005 to 2009. He participated in shooting competitions in 2014.
Leeper has visited Moyers at the hospital and spoken to his fiancée and family. Calling him "a great guy" who was hired in 2015, the sheriff said the couple was planning their wedding.
The Sheriff's Office said Moyers in 2018 received an ABCD Award for going Above and the Beyond the Call of Duty on a Narcotics case. He was a Hilliard Middle-Senior High School graduate and studied at St. Johns River State College and Florida State College at Jacksonville.
Again speaking emotionally and trying to compose himself, Leeper said Moyers was in very critical condition and "We are not sure if he's going to make it or not." He asked for prayers and for anyone who has seen McDowell to contact authorities.
McDowell is described as 6-foot-1, 180 pounds, with balding brown hair, blue eyes and wide holes in his ears. Anyone with information is asked to contact the Sheriff's Office at (904) 548-4000 or call 911.
©2021 www.jacksonville.com. 
Visit jacksonville.com.
Distributed by Tribune Content Agency, LLC.