Jan. 28, 2023 ASP stands for Assured Stopping Power, and the engineering that went into the design of Nosler's 115 grain ASP 9mm cartridges give it consistent performance.
By Officer Lindsey Bertomen (ret.), Contributing Editor Source officer.com News
I tested Nosler's 115 grain ASP 9mm cartridges, a controlled expansion cartridge designed for defensive use. The advanced design of the ASP bullet prevailed in these tests.
ASP stands for Assured Stopping Power, and the engineering that went into this design gave it consistent performance. My exploration into ASP bullets began when I was looking at them in other calibers, specifically 10mm and 40 S&W, and I ordered some bullets for reloading.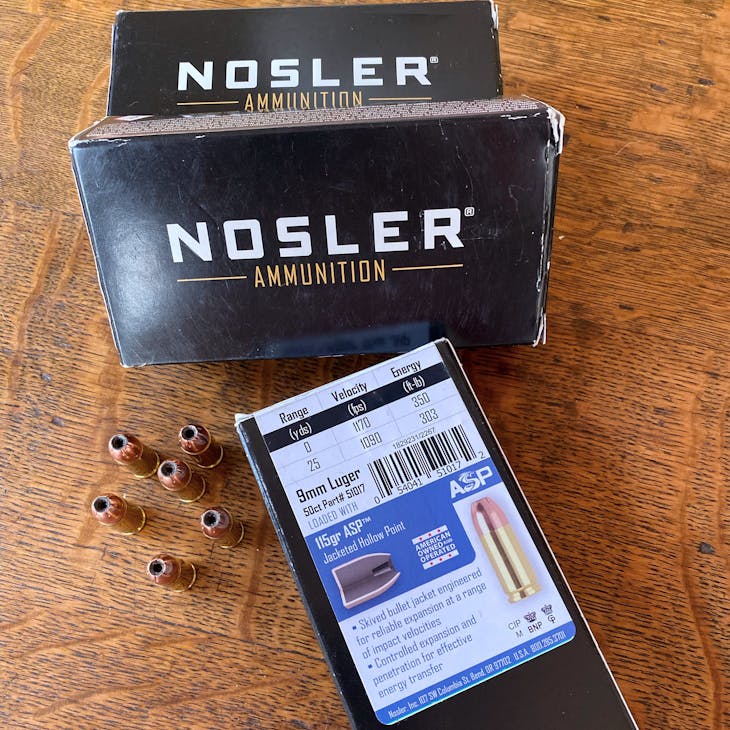 Reloading cartridges is a completely different field, and it is something I have been doing for a little more than 4 decades. As almost everyone knows, reloading is when expended components from shooting are recycled into new cartridges. This is what has allowed me to practice every week during my time as a Police Officer. It is also the reason why I became educated in cartridge design.
Using raw components, I tested several different bullet styles, from different manufacturers. When I started testing 10mm sized Nosler ASP bullets in ballistic gelatin, I was getting great results. As you know, a skilled reloader can tailor the characteristics of a cartridge by varying the type and amount of components used in the load. The Nosler ASP bullets always floated to the top in my terminal performance testing.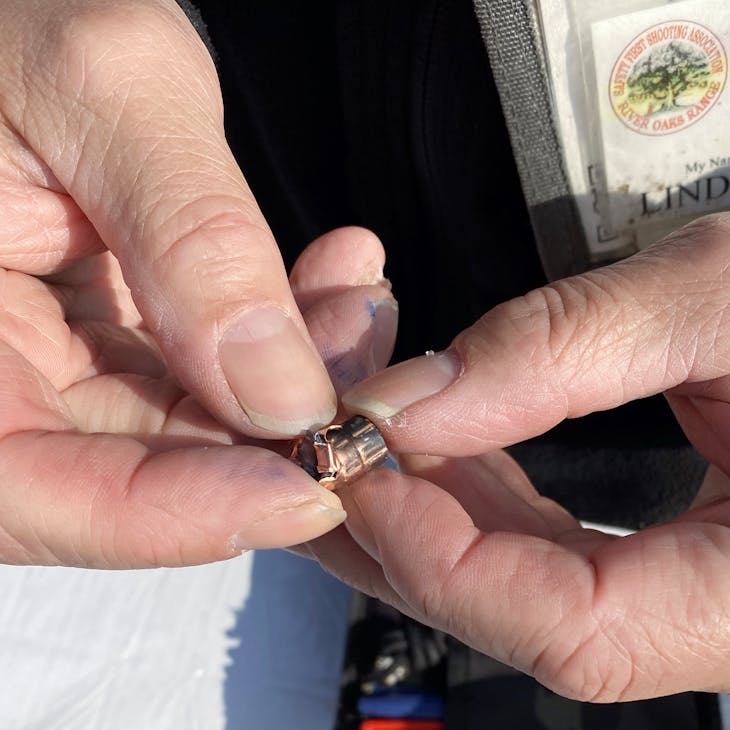 The ASP bullet design is basically a jacketed hollow point (JHP) with a lead core and deep scored skives on the outside of the cone of the bullet.
Within the performance band of the 10mm and 40 S&W, the ASP bullets could do anything: feed reliably, shoot small groups, and stop at the correct interval in ballistic gelatin. On targets, the bullets drilled tiny groups. With the excellent utility of the 10 mm bullets, I just had to try the 9 mm version, using Nosler's loaded cartridges.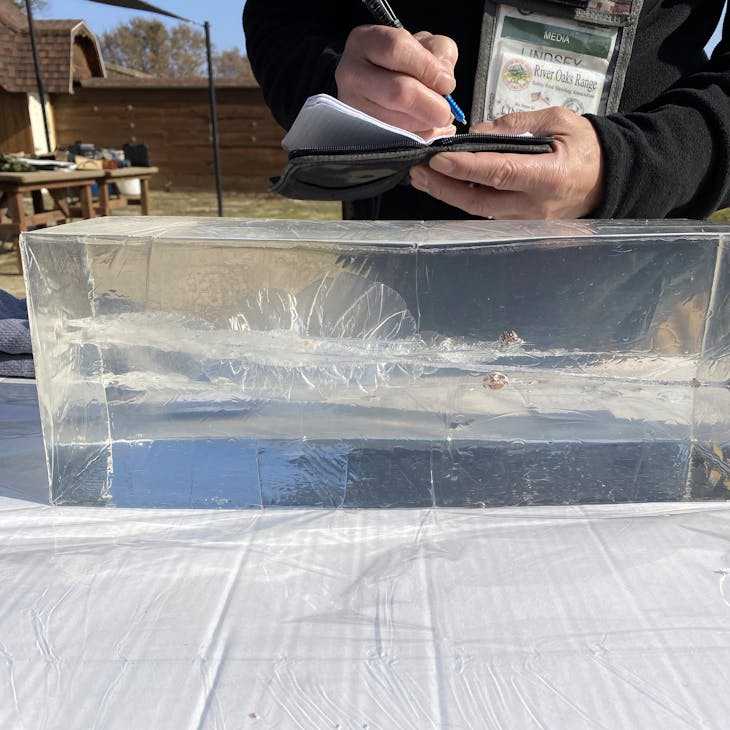 The Nosler 9mm 115 grain JHP ASP cartridge is a standard pressure round, meaning it is not loaded to +P levels. Anyone who knows me knows that I generally carry +P 124 grain JHP rounds for defensive purposes. The popular weights for duty 9mm bullets run from 115 to 147 grains.  I have always had the best test results with 124 grain cartridges. Why would Lindsey test a 115 grain standard cartridge?
The answer is the fact that many off duty guns need lighter bullets in order to perform. There are some extremely lightweight 9mm guns out there, like the Diamondback Firearms DB9, that weighs 13.4 oz unloaded. Even Lindsey's EDC gun, a Kahr CW9, weighs 15.8 oz unloaded. The mass of a lighter gun does not resist the heavier bullets well. That is, 115 grain standard pressure cartridges like the Nosler ASP give lighter recoil. With the shorter barrels and smaller guns, it is often better to run lighter bullets so they reach velocities that will cause their hollow points to open.
The Nosler ASP 115 grain cartridges ran moderate velocities, which did well in gelatin tests. Depending on the testing equipment, some published velocities of cartridges are higher compared to field tests, simply because the testing apparatus varies. Most laboratories use test receivers and barrels, which can deliver higher numbers than a compact handgun. Using my Caldwell chronograph and a non-polygonal 4" barrel, the velocities averaged 1104 fps, about 70 fps slower than their published velocities. At this speed, they maintain 300 fpe, which is great for a standard pressure 9mm.
These cartridges have a low 13.1 standard deviation (SD), which is the level of the variation of the velocities of the cartridges I tested. This was pretty low, which explained the good accuracy of the cartridges: The lower the SD, the higher the likelihood of good accuracy.
I use Clear Ballistics gelatin for cartridge performance testing. This is something any agency can, and should, do to test a cartridge. I recommend revisiting a random lot of the duty issued ammo of an agency at regular intervals, bi-annually, if possible.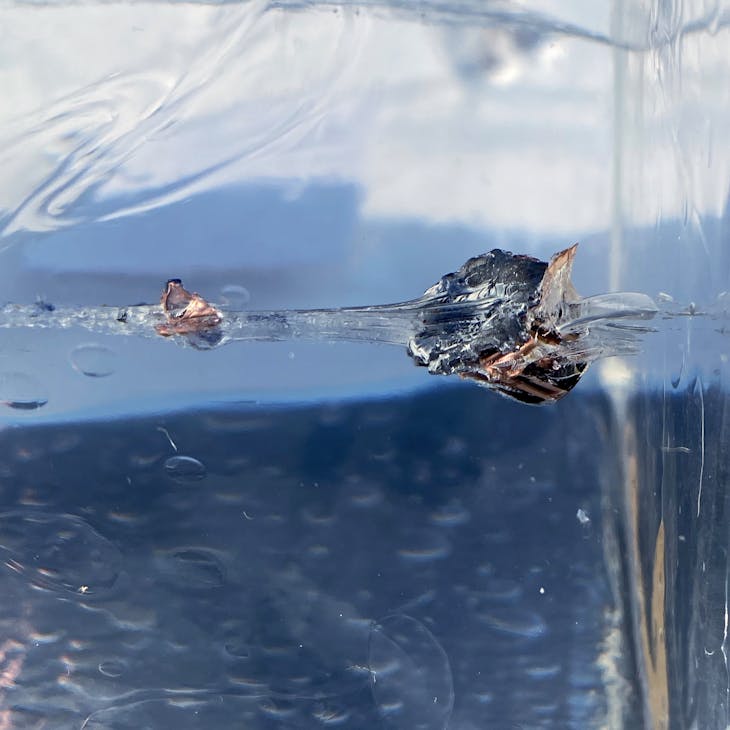 The FBI protocol uses calibrated 10% ballistic gelatin in 6 different standard materials, from bare gelatin, though auto glass, steel, and other materials. I use similar testing standards, except I don't have a budget or working hours provided by taxpayers like you and me.
Using ballistic gelatin, cartridge performance is considered adequate when the bullet stops in the gelatin between 12 and 18 inches. If it travels beyond 18", there is the potential of going through the human torso. If it stops short, the bullet will have a lower chance of hitting something that will incapacitate the threat.
I may have been a little dismayed when the first two shots went 11" into bare gelatin. Their expansion, however, was 140%, and they retained 100% of their original weight. After that, every gelatin shot did just fine.
In the heavy clothing test, the average was 17", with one round going 19". The heavy clothing test is one area where the bullet design is really exposed. If the bullet expansion is aggressive in bare gelatin, the material may fill the hollow point when it goes through the clothing barrier. After this, it acts like a solid point. The evidence of this is a bullet that sails through the entire block, often piercing two or three backup blocks. When a bullet does this, it may have done well in bare gelatin, but it is a fail in the clothing test.
The ASP bullet expanded after the clothing barrier, and showed ideal performance in this test. Inside the gelatin, not all of the petals created by the skives opened, causing the bullet to yaw in the direction of the expansion. Only one bullet lost any material in this test. It was only a single skiv, within an inch of where the bullet came to rest. The rounds gave consistent performance in this medium, and gave us a hint of where this cartridge would be a good fit.
In the glass test, the ASP bullet gave a full expansion, held together, and averaged 11" in penetration. In my experience, this is unusual, and speaks highly of the quality of this cartridge. The ASP bullet is a premium bullet, but it is not a bonded bullet design. That is, besides the "normal" construction of swaging a lead core into a copper (or copper alloy) jacket, a bonded bullet has some mechanical device designed to keep the core and jacket together. Sometimes it is a design feature like a cannelure, other times it is something like an epoxy. The ASP bullet does not appear to have any internal or external features that indicate bonding. It just held together.
Just so you know, we generally test bonded bullets only through barrier penetration tests. If most people knew how poorly most defensive bullets do in barrier tests, everyone would buy bonded bullets for defense. The ASP bullets were 1" short on the FBI protocol, but they retained 100% weight after barrier. This is a win for a non bonded cartridge.
We shoot our test cartridges at 20 yards. This was quite an endeav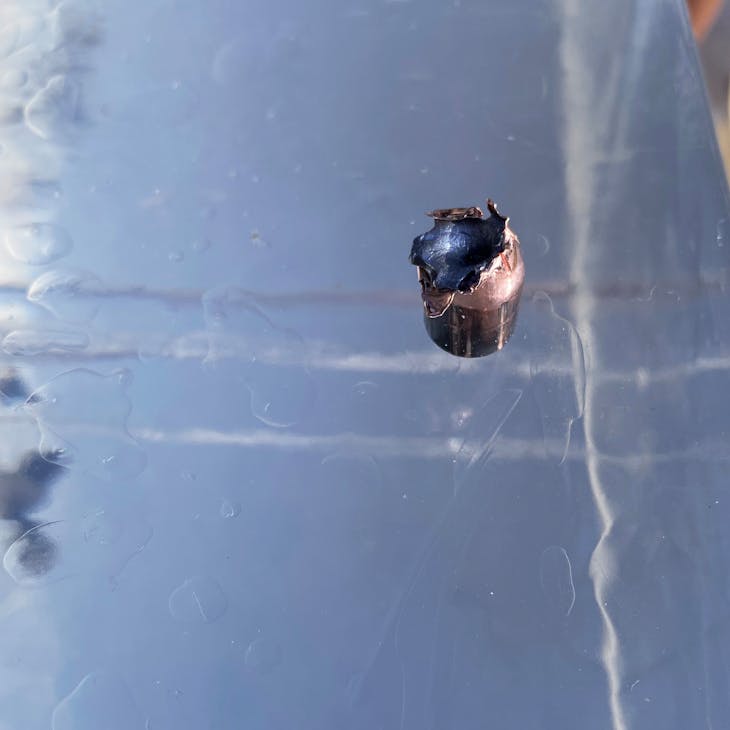 or for this test, as our range was flooded, and erecting any target meant prevailing in quicksand-like conditions. We close the range when it rains heavily, as we have literally had to rescue stranded shooters before. Our team found a dry island in which to erect a 20 yard target. The ASP cartridges kept all groups under 3", without any effort at all.
The cartridges burned cleanly, without excessive flash or smoke. Nosler uses standard brass with their own headstamp, and they fed and ejected smoothly.
After all this testing, where do I think the Nosler 115 grain ASP 9mm be a good fit? I see this in two different scenarios for Law Enforcement. First, it is a great cartridge for off duty use in colder climates. The results in the heavy clothing test suggests this cartridge will work well where people generally wear more than one layer.
Second, this is a good cartridge to partner with the Nosler ASP 124 grain cartridges, the 115 grain ASP cartridge's bigger brother. Use the ASP 124 grain ones for duty, the 115 ones for off duty.