May 25, 2023 U.S. Marshals apprehended a shirtless and shoeless man who was hiding behind a make-shift wall in an Arcadia home after he intentionally rammed the cruiser of a DeSoto County sheriff's detective.
By Mark Price Source The Charlotte Observer Distributed by Tribune Content Agency, LLC.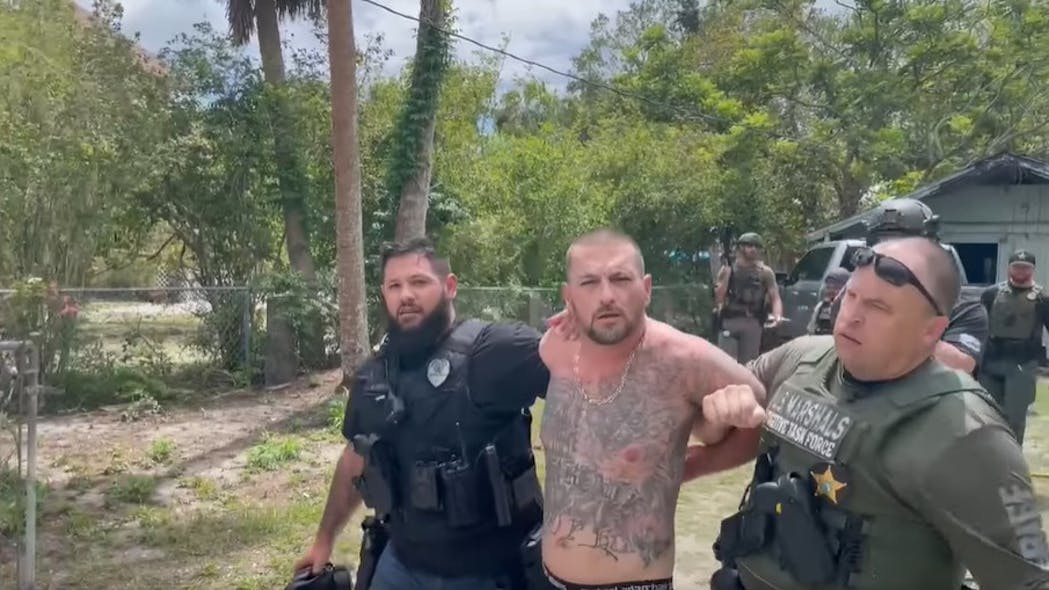 The search for a man accused of "intentionally" ramming a patrol car took a strange turn when law enforcement officers found him hiding "behind a make-shift wall" in a Florida home.
Video shows Ryan Lee Pope was shirtless and shoeless as U.S. Marshals led him from a single-family home on North Manatee Avenue in Arcadia, about 90 miles southeast of Tampa.
He was visibly angry and lectured his captors about unnecessarily "yanking" him around.
Investigators have not said what led them to search the single-story home, which is surrounded by a chain-link fence.
"Pope was found hiding from law enforcement agencies behind a make-shift wall in the home," the DeSoto County Sheriff's Office said in a Wednesday, May 24, news release.
"He now faces charges including aggravated battery, aggravated assault on a law enforcement officer, aggravated fleeing to elude and possession of ammunition by a convicted felon."
One deputy was injured May 23 when Polk put his car in reverse at a traffic stop and "intentionally" rammed a detective's patrol car, officials say. Pope then sped away, forcing a deputy to jump from the path of the vehicle, video shows.
The identity of the injured deputy has not been released, but he has been discharged from a hospital and will recover, DeSoto County officials said.
A manhunt revealed Pope's vehicle crashed at an intersection north of Arcadia, leaving him on foot.
The home where he was found was about 5 miles southeast of where the vehicle was abandoned. Investigators have not revealed Pope's connection to the home.
The manhunt occurred while Pope was out on bond for "aggravated battery, aggravated assault with a deadly weapon, fleeing from law enforcement and possession of a weapon by a convicted felon," the sheriff's office said.
Those charges were in connection to a May 3 "physical disturbance" that resulted in deputies chasing Pope as he drove a scooter "all through downtown Arcadia," officials said. The chase ended when he crashed the scooter, and a search revealed he was carrying two handguns, the sheriff's office said.